Profile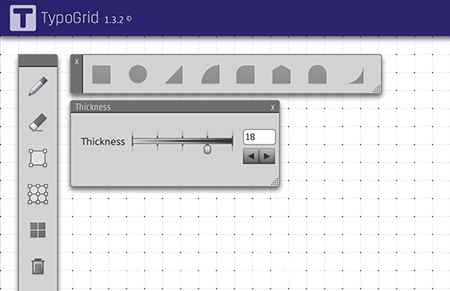 TypoGrid 1.3.2 - Web App. 1 march 2015
TypoGrid is a smart tool for typographers and graphic designers helps them to create typography letters and pixel arts based on the grids system. View +


Biography

Qassim Haider was raised in a creative environment from an early age. He was attracted to diverse disciplines of art and developed an interest in drawing, painting, calligraphy and designing.
A curious mind that constantly seeks knowledge, Qassim's portfolio extends to fields as diverse as arabic calligraphy, typography and web programming.
Qassim was commissioned to develop typefaces and calligraphy for different campaigns and creative projects. His work has been featured in publications and he has spoken at various art forums, Since ending of 2014 he launched his own business -
qtypography.com
- offering arabic fonts & strategic design services.
حظي قاسم بيبئة فنيّة منذ نعومة أظفاره، أحب القلم والقرطاس، دَرَسَ الخط العربي وفق أصوله الفنيّة مع أساتذة متعددين، مَزَجَ معارفه بشكلٍ إبداعيٍ متناغم، فراح يرسم لوحةً هنا، ويبدع خطًا هناك، فكَرَس حياته كراساتٍ خطيّةٍ وفنيّةٍ، إلتحق بالدراسة الأكاديمية وتخصص في تقنية المعلومات، فأجاد لغاتٍ برمجيةٍ عديدة، كما مارس التصميم الجرافيكي وطور الخطوط الطباعيّة الحديثة، أبدع قاسم في الخطِّ الكوفي بأنواعهِ المتعددة كما برع في خطِّي النسخ والإجازة. ساهم في تصميم العديد من الشعارات والخطوط لحملات دعائية عالميّة ومحليّة بالإضافة لعدد من المواقع الإلكترونية، كما أنه ابتكر برنامجًا خاصًا لتصميم الخط الكوفي المربع.
4482 likes.
Selection of logotypes created for various clients over the past years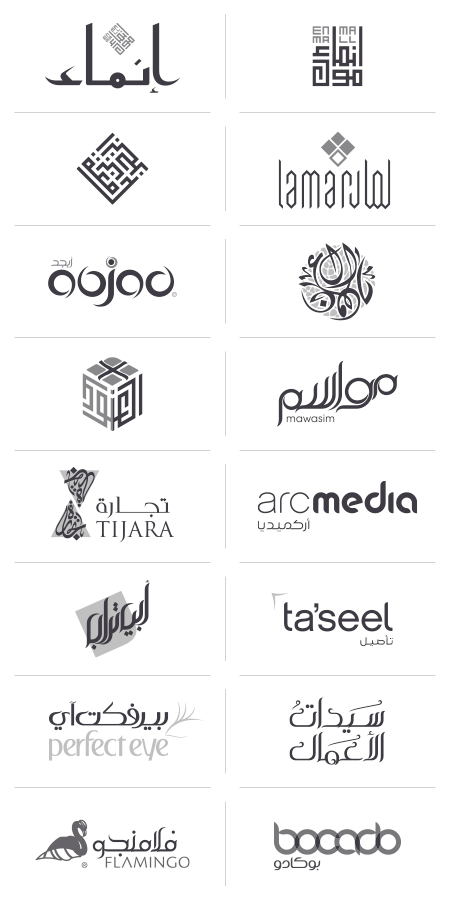 PDF : Selection of logotypes created for various clients over the past years.
Some of the custom and exclusive Arabic typefaces that I've developed.
Services
Branding & Logo design.
Logotype, Typography & Brandmark Arabization.
Arabic calligraphy.
Wedding & Greeting cards design.
Custom font design.
Font format conversion.
Book & Brochure design.
Web design & Development.
Typography & Calligraphy course.
Consulting.
Contact
Need custom font? need an arabic calligraphy or typography for your corporation or client? contact me and I will get back to you as soon as possible! or Request for Quotation
e: qassim[at]qcalligraphy[dot]com | qassim[at]qtypography[dot]com
w: www.qcalligraphy.com | www.qtypography.com

Guestbook & feedback

2
You are an artist .. Wish you get good future and luck. Regards,,
---
3
خطك رائع يا أستاذ قاسم .ما شاء الله. أنا أعشق الخط غير أن الحظ لم يسعفني لتعلمه .لاأعرف كيف أصنع القلم .عمري الآن 64 سنة ولا أظن أنني ساتعلم... لك مني تحية تقدير وإعجاب. حفظك الله و رعاك.
---
4
ايقونتك جميلة جدًا. أرجو أن لا تغيرها.أما عن كتابتك للآية الكريمة.قد وضعتها كخلفية . وقد زارني صديق يعشق الخط مثلي فأعجب بها... لك مني ألف تحية وعين الله ترعاك يا ولدي. يحيى أبوعصام من الجزائر.
---
5
Honestly dear, Day after day, year after year, you keep up the continues achievements with that exponential balance! And guess what, that is one of the most causes that cheers me up! I am really happy for you... With my pure prays,
---
6
You've achieved a great balance of classical expression of calligraphy within the modern context. Good work!
---
7
تقديري وتحيتي لكم. بالمناسبة يعجبني جدًا التطبيق الموجود على موقعك للكوفي المربع
---
8
تبارك الله تسلم أيدك أخي قاسم موهبة رائعة وحس جميل غاية في الدقة والروعة الله يزيدك من الإبداع يفنان. وخلينا أنشوف جديدك وتقبل مروري
---
9
Very helpful tool for square Kufi, I was using fontlab with a special python script to do the same at the web app you developed but your app makes it easier for all the people to use.
---
10
إلى الأمام أيها الفنان البارع
---
11
السلام عليكم ورحمة الله وبركاته اليوم حانت لي التفاتة لزيارة موقعكم الطيب ... والذي رأيت به الكثير من الجمال المبدع ورأيت بعض الخطوط الطباعية فأحببت التعرف إليكم معكم حسن أبو عفش وأنا مصمم حروف طباعية عربية من غزة، فلسطين
---
12
I love all your designs. Don't know what they mean, but they're perfect design-wise.
---
13
You make a different my friend. Your mix of classical Calligraphy and modern tools, make your work outstanding and have a new spirit. Personally i always refer to your Kufi Website to do some works. You are an example of creative up to date person with a deep roots of classical school of calligraphy. دمت موفقاً دوماً
---
14
أنت من الخطاطين الذين لا يستهان بهم ولك لمساتك الخاصة في الكوفي وبرنامج الكوفي المربع ولوحاتك خير دليل‪ ‬أراك مِمن طوروا وابدعوا دمت سالماً
---
15
كم انت رائع أيها المبدع القدير ❤️
---
16
I loved all your work ! I like everything !! I really wish to be so prof. As you ;)) @qassimhaider ..
---
17
ماشاء الله الله أكبر اسأل الله - عز وجل - أن يبارك فيك وأن ينفع بك يا أستاذ قاسم ولكن أريد منك أن تكتب هذه الآية إذا تفضلت :) (ومن جاهد فإنما يجاهد لنفسه)
---
18
والنعم فيك فنان مبدع وموهوب وزيادة بعد خلوق . الله يوفقك لكل خير. ويجعلك دخر للوطن
---
19
عزيزي قاسم حيدر رعاكم الله السلام عليكم ورحمة الله وبركاته لقد سررت بأعمالك الجميلة ، لا سيما وانا من المهتمين بالخط الكوفي المربع ، وان تصميماتك رصينة وجميلة ، ارجو من جنابكم التواصل واطلاعي على مستجداتكم .. اتمنى لك كل التوفيق ودمت بالف خير وعافية
---


Disclaimer
Copyright © 2007-2017 Qassim Haider Calligraphy.
All Rights Reserved.

Reproduction of any kind is expressly prohibited without written permission of Qassim Haider. If reproductions are discovered, we reserve the right to prosecute to the fullest extent of the law.